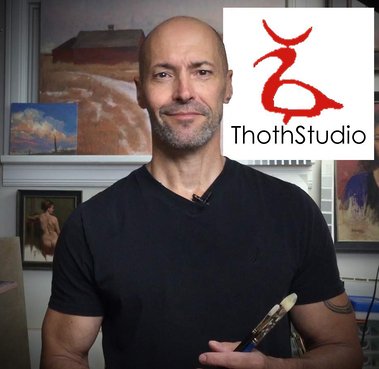 My current teaching consists of an online presence at Udemy (links below) and occasional private mentoring and coaching. Hopefully, we will be able to do workshops in person in the not-so-distant future. There are now three "how-to" courses or tutorials available on the Udemy.com platform. Udemy features hundreds of courses and tutorials on numerous subjects and themes. Joining Udemy is free.

My tutorials on Udemy are presented with help and collaboration with 8D-Studio: "Painting the Portrait in Oil" (a follow-up or update is coming later in 2022); "Better Pencil Drawing using the Bargue Course", and; "Practical Color Theory for Portrait and Figurative Art". Click here to go to the Portrait in Oil course, here for the Bargue drawing course, here, for the Color Theory course.
[Clicking links will open a new page or tab in your browser]
Also, you can visit my (slowly) growing YouTube channel for some short video tutorials. Rumble channel to start in early 2023.